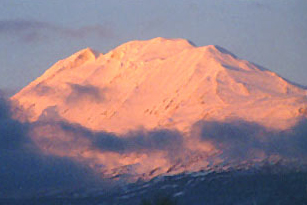 Mt. Adams (12,276') from Trout Lake
Directions to Kelly's Trout Creek Inn
Note: Please park close to the house — NOT in front of our garage.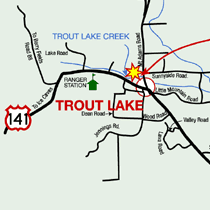 Click on Map to enlarge!
Getting to Trout Lake, Washington is easy if you know where Hood River, Oregon is. Hood River is on the Oregon (South) side of the Columbia River Gorge. Trout Lake is 25 miles to the North of the Columbia River Gorge on the Washington (North) side. Trout Lake is at the base of Mt. Adams, on its southwest corner.
From Portland (or Western Oregon) follow Interstate 84 East to Hood River (60 miles). Exit #64 takes you to the Hood River Bridge (sign to White Salmon). On the Washington side going left or right will take you to a sign for Trout Lake and Highway 141 (going right will take you through Bingen and White Salmon).
From Seattle or Vancouver (Western Washington) one has the option of either following I-84 on the Oregon side of the Columbia River Gorge, or following Highway #14 East on the Washington side. Highway #14 is perhaps a little slower (just 2 lanes) but is more intimate and scenic. Near Bingen, go left at the Trout Lake sign (just after going over the White Salmon River Bridge), or follow the signs to Bingen and through White Salmon (Highway #141).
Just past the "Entering Trout Lake" sign is a "Y" Go to the right ("Randle"). In about 1/8 of a mile you will go over a bridge (Trout Lake Creek). Kelly's Trout Creek Inn is the first driveway on the left - you'll see our sign!
We accept personal checks, cash, Visa, MasterCard or Discover.
No Extra Charges.
We have a 2 night minimum stay policy for weekends. Our cancellation policy is a 7 day policy.